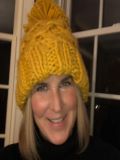 #No Surrender, #Geissler Strong:

On May 5, 2022, it will be one year since we lost our angel, Sue. Sue was diagnosed with glioblastoma in January of 2018 and faced this devastating diagnosis with grace, courage, strength, and humor.  She had Bruce Springsteen's words "no surrender" tattooed on her arm, and she continued to live life to the fullest - teaching, dancing, shopping, traveling – and never surrendering.  When she had to be alone at the hospital for her second brain surgery due to COVID restrictions, she had the words "Bad Ass" written on her head bandage before leaving the hospital.

Sue was a fierce advocate for finding a cure for brain cancer and was honored with a Courage award by the CTBA in the fall of 2020. She loved music, dancing, teaching and her students, sports, and most of all, her husband of 25 years, and her three boys.  Life without her has been devastating and unimaginable at times, but we know she will always be by our sides in spirit, with laughter, joy, loving encouragement, and whispers to "just dance"!