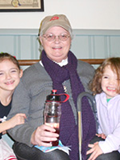 Mom was a dedicated mother, friend, sister, aunt and Nana. She was committed to her career as a payroll manager and delighted in planning the annual New England Payroll Conference for payroll professionals from 6 states. She was a lover of wine, travel, gardening, local theater and always being the best fun at a party.
Mom was diagnosed with a Glioblastoma on November 11, 2011 after exhibiting stroke-like symptoms. She declined quickly but was surrounded by family and friends every moment of her battle with brain cancer. She bravely passed away on February 22, 2012 and she is missed every day. She was just 63.
Her family and friends continue in her honor -- every time we something yellow we happily remember her.
- Submitted by Maria Grove